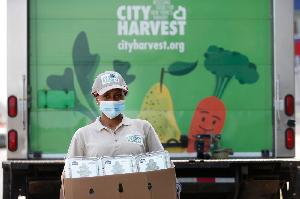 Donate Funds to the 2020 Daily News Food Drive
For 38 years, City Harvest and the Daily News have partnered to host the city's largest food drive, taking place this year from Tuesday, October 20, 2020 through Friday, January 22, 2021. Donating funds helps City Harvest rescue and deliver food that would have otherwise gone to waste and deliver it, free of charge, to hundreds of soup kitchens and food pantries in New York City. This year, the need for emergency food is at an all-time high, as New Yorkers across the five boroughs continue to contend with the economic fallout of the COVID-19 crisis.
Please help us make sure no good food goes to waste while so many of our neighbors are struggling to put food on their tables. Every $1 donated can help feed 2 New Yorkers in need.
Click "Donate Now" to make a tax-deductible contribution. Thank you for your support.
View More

Team Honor Roll
Ms. BARBARA JOYCE KLAR
$52