2021 New York Flyers Holiday Food Drive Fundraiser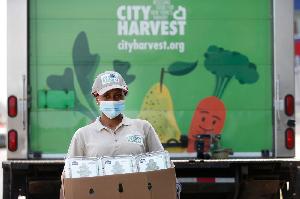 Fourteen years and stronger than ever!
In addition to being the largest running club in New York City, the New York Flyers support a variety of community-based and charitable causes throughout the year. Since 2008, the Flyers have partnered with local food banks to help alleviate hunger in our own community.
The COVID-19 pandemic of 2020 brought with it illness, stress, uncertainty, family struggles, job losses, the passing of loved ones, and a staggering death toll worldwide. While New York is well on the road to economic recovery, food insecurity for people who were living near or under the poverty margin before the pandemic continues. Today, more than 1.5 million people in New York City, including one in three children, do not have enough to eat.
During 2020, City Harvest expanded its existing food rescue and delivery, nutrition education, and healthy retail programs by repackaging and distributing 191 million pounds of food (twice its capacity for the same period a year before the pandemic), and supporting 32 new emergency food distribution sites in high-need neighborhoods, including feeding frontline medical workers at sites close to hospitals. If you can, please help City Harvest continue its mission of providing access to healthy, nutritious food by participating in the 2021 Flyer Food Drive Fundraiser. This year's fundraising drive starts on Sunday, November 14 and closes at 9:00 PM on Friday, December 17.
About City Harvest
City Harvest is New York's first and largest food rescue organization, helping to feed millions of New Yorkers who struggle to put meals on their tables. This year, City Harvest will rescue 109 million pounds of fresh, nutritious food and deliver it—free of charge—to more than 400 food pantries, soup kitchens, community partners and Mobile Markets across the five boroughs. City Harvest works alongside community partners to boost community capacity, expand nutrition education, and strengthen local food systems. For more than 35 years, City Harvest has always been there to feed our city—one day, one meal, one New Yorker at a time.
As our city continues to grapple with the devastating economic fallout of the COVID-19 pandemic, the number of New Yorkers relying on City Harvest has skyrocketed, and thousands of our neighbors are turning to food pantries and soup kitchens for the first time. Please help make sure that no good food goes to waste while so many of our neighbors are in need.
Every $1 donated helps City Harvest feed two New Yorkers for a day. By donating, you'll help keep City Harvest's trucks on the road and filled with nutritious food for our neighbors in need.
Click "Donate Now" to make a tax-deductible contribution. Thank you for your compassion, generosity, and support!

View More
Honor Roll
Francine, Laurent, Louis and Rafi
$36
In memory of Nick Jesdanun
$207
Jerry & Susanne Flower
$135
Mary Beth and David Ezra
$75
Mike Schumacher & Joyce Pressley
Mr. Stephen Andrew Kairys
$53
Teresa Palomero and Adolfo Ferrando
$139